Download XVL Player for Windows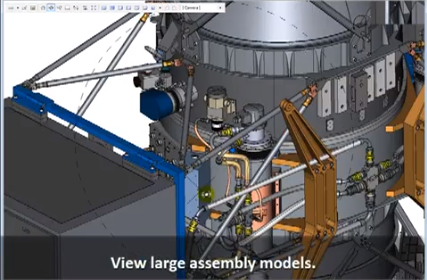 Instructions
Please complete the form to the right and we will email you a link to download the FREE XVL Player.
If you have any questions, please email us at support@lattice3d.com.
Many Viewing Options Available
All players and viewers from Lattice Technology are FREE. All offer viewing--some offer very powerful interrogation capabilities such as the insertion of section planes.
To see the other options, please visit 3D CAD Player and Viewers for XVL.
About XVL Player
XVL Player enables users to visualize and interrogate 3D CAD models easily. XVL Player enables anyone to view (including animations), rotate, measure, and cross-section 3D XVL data. PMI can be viewed (including GD&T) along with the complete assembly tree.
Work instructions are a very powerful capability offered by Lattice Technology. These instructions are textual-based, step-by-step instructions that are attached to geometry for completing complex tasks such as assembly for the manufacturing line or service procedures. Work instructions, which may include animations, are fully supported by XVL Player.
Because the models are extremely small (usually less than 1% of the original CAD model size), XVL Player allows users to visualize and interrogate extremely large and complete assemblies on minimally configured desktops and laptops.
XVL Player is a FREE Windows application for desktops and laptops. It can be opened in two different modes: as a standalone application or as a browser-based application with an add-on for Internet Explorer or Mozilla Firefox.