Case Study:
Alpine Precision, a Mold Maker -- Goes paperless in manufacturing by relying on 3D models instead of 2D drawings - reduces lead time for manufacturer in the auto industry.
Unleash the hidden value of your 3D models throughout your organization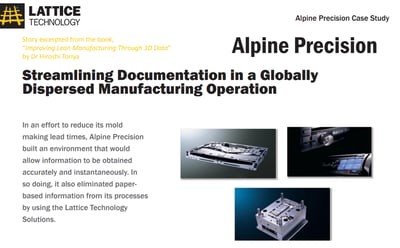 In this whitepaper:
Why XVL?
The ultra-lightweight format and CAD-level accuracty of the XVL format coupled with powerful, easy-to-use authoring tools, make our solutions the perfect fit for companies with complex products.
Six Common Uses
Lattice Technology delivers solutions that enables reuse and repurposing of 3D CAD model data. No CAD experience or licenses are required.
Enable greater efficiencies, productivity, and bottom-line profitability.
Learn how XVL can be used for:
Interference Assessment
Mechatronic and Mechanical Simulation
Digitial Assembly for Validation
Process Animation
Interactive Parts Lists Linked to Geometry
Technical Illustrations
Please complete the form below and we will email you the link to the PDF.
Get the White Paper