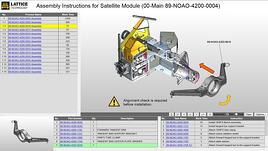 See an enlargement and descriptions of the sections of the above image by clicking here.
What Is a Work Instruction?
Work instructions should clearly and unambiguously communicate step-by-step task to complete a process.
Uses Cases for Work Instructions
Work Instructions have a number of uses. For example:
Manufacturing

Product Assembly

Service

Training
How Are Work Instructions Viewed?
Work instructions can be deployed for interactive access on desktops, laptops or mobile devices. They may also be deployed in 2D for printing or for static 2D electronic documents.
Interactive access has several advantages, such as:
Clarity and ease-of-use: Only the current step is presented, while direct access to all is available. Animations may also be included.
Interactive model viewing: For each step, the model can be re-positioned for optimal viewing and understanding of the step, while annotations remain visible.
Simplified maintenance: When engineering changes occur or procedures are revised, updates to work instructions previously deployed can be done faster.
For interactive deployments, many choices for devices and applications are available – all of which are FREE.
Desktop and Laptop Computers
Mobile
iXVL for Apple iOS for the iPad or iPhone
Interactive Web Pages
Solutions from Lattice Technology
We provide an advanced software solution for authoring work instructions with features and benefits such as:
Using a work instruction template speeds the creation process and provides consistency.
Provide an easy-to-use authoring tool that automates as much of the process as possible.
Facilitate easy maintenance of work instructions when engineering updates are made to the CAD model.
Directly leverage models from engineering CAD systems, while maintaining their accuracy.
Offer numerous FREE options for using or consuming work instructions, including mobile devices.
A single work instruction may include 10, 20, 100 or more steps. Each step includes the appropriate 3D interactive part model with a description of the action required and may also include an animation.
Features of Lattice Technology Work Instructions
Interactive or static
Multiple cross-linked views.
Many different formats for PCs or mobile devices.
3D models, 2D illustrations and text instructions.
Human mannequins to show positions and assembly techniques.
Tools and equipment used in each task.
mBOM and sBOM elements such as manufacturing and service kits
Learn How Mitsubishi Used Work Instructions to Implement Concurrent Engineering
Mitsubishi Agricultural Machinery (MAM), part of Mitsubishi Heavy Industry Group, designs, manufactures and sells agricultural machinery.

To better meet the needs of a rapidly changing market, Mitsubishi adopted a strategy known as concurrent engineering, using solutions from Lattice Technology.

MAM dramatically changed the workflow of their assembly process and work instructions to take advantage of concurrent engineering. Visualization in 3D with the related instructions of the assembly process enables users to quickly and easily understand the process.
Download the report by submitting the from on the right.