Corporate Profile
KCM Corporation is a manufacturer of construction machinery such as wheel loaders.
Business Challenges
In the mid-2000s, the market for construction machinery was challenging. KCM was forced to shorten time-to-market, reduce costs, and focus on improving customer satisfaction.
KCM realized that such challenges could not be addressed using traditional development methods. They decided to adopt 3D design and implement concurrent development with the goal of shortening time-to-market by 30-50%.
In the design department, use of 3D data proceeded very rapidly with the introduction of 3D CAD. However, KCM had a hard time extending the use of 3D data downstream from design.
Business Strategy and Objectives
KCM turned to XVL to resolve these challenges.
XVL is a unique 3D format. After converting from the original CAD system, file sizes are typically 1% of their original size, while maintaining CAD-level accuracy. For KCM, this meant a 2.5GB file in 3D CAD could be compressed to 68.5MB in XVL, as shown in Figure 1 . This was crucial for enabling sharing and collaboration throughout the organization.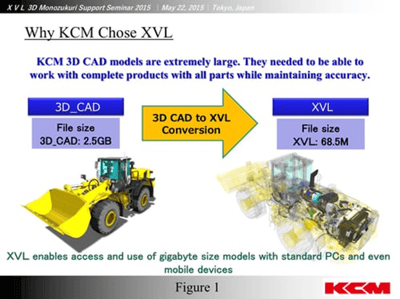 Mr. Kanemoto of KCM describes the improvements in various departments as follows.
Design Department
Interference checking with XVL in addition to CAD


Previously, interference checks were performed by experienced CAD users. XVL allowed even non-CAD users to perform interference checks.

Collaboration between designers


XVL enables technical 3D collaboration between designers, including non-CAD users.

Result:

By using 3D for interference checking and technical collaboration, KCM reduced the number of design changes by 48%.
Production Department



Process Planning
XVL enables early collaboration between the Design Department and Production Department — even before drawing release. Also, 3D collaboration documents like those shown in Figure 2 are "easy to understand" and have significantly reduced the amount of rework caused by misinterpretation. With XVL-based 3D collaboration documents, the Production Department can now determine optimal production processes and orders for mass production.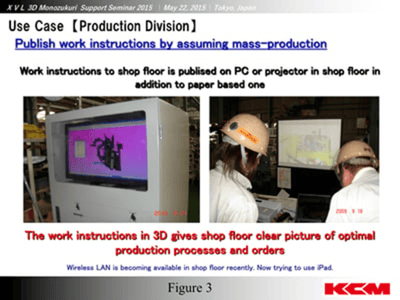 Work Instructions
XVL-based 3D work instructions give experts on the shop floor a clear picture of the optimal production processes before production begins (Figure 3).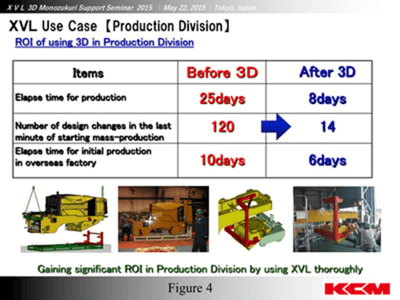 Altogether, the use of XVL has enabled the Production Department to significantly reduce the lead time to production and the number of design changes (Figure 4).
Product Support Department



XVL allows the Product Support Department to easily create illustrations for parts catalogs and detailed views for operation manuals. This resulted in a significant reduction of man-hours for creating documents (Figure 5).
Sales Planning Department



The Sales Planning Department uses XVL to create product brochures, sales materials and even videos for exhibitions (Figure 6).
Global Collaboration



In addition to using XVL to collaborate between local departments, KCM Japan also uses XVL to collaborate with KCMA in North America (Figure 7).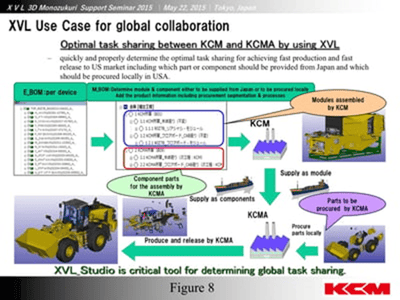 XVL allows KCM and KCMA to share not only 3D models, but also M-BOM data from the XVL Studio manufacturing and process trees. This additional information enables them to quickly determine the optimal way to share tasks to achieve fast production and launch in the US, including which modules should be supplied from Japan and which should be procured locally in the US (Figure 8).
Implementation Challenges
Mr. Kanemoto reports that the adoption of XVL downstream from design faced challenges. The additional workload of creating 3D data in the Design Department increased development time. Also, there was concern about the geometrical accuracy of the lightweight 3D data and accuracy of the BOM data. Finally, there was concern that the 3D data would not be available when the Production Department needed it.
To address these problems, Mr. Kanemoto's team made the following three commitments:
Assure and maintain geometrical accuracy.

Assure the consistency between E-BOM and the structure of 3D data in XVL.

Release the 2D drawings and 3D models simultaneously.
To implement these goals, they developed an internal database that manages 3D XVL models accompanied by 2D and allows users to retrieve 3D data at any time.
These commitments and XVL encouraged people in downstream departments to use 3D data. As a result, Mr. Kanemoto is expecting to achieve 30% reduction of lead time from starting development to product release to market.
Extend Concurrent Work
The latest challenge is to promote concurrency in product process planning. In the past, assembly process planning could not begin until completion of earlier tasks such as planning the welding process of components needed for the assembly. This means that process planning was a sequential process. Applying 3D digital data enables them to make multiple process plans in parallel.
Virtual Configuration for Sales
Another future endeavor for KCM is to create a system which allows sales to configure products that reflect customer requirements. With all the information stored in the database about shape, BOM, component, and module information, the system generates a 3D model of the product, including cost and lead time, tailored to customer requirements in real time.
Given KCM's experience with XVL, Mr. Kanemoto is confident that it will be able to meet such challenges and expectations.
Summary
Faced with new challenges in the construction manufacturing market, KCM needed to shorten time-to-market, reduce costs, and focus on improving customer satisfaction. This was done by applying Lattice's XVL solutions across multiple departments. By digitally transforming processes within these departments, KCM was able to achieve their goals, and they are now looking toward the future.