Simple But Powerful
Some of the possible uses of an interactive 3D PDF from Lattice Technology:
Collaboration inside and outside of your company
Shop floor procedures and training
Service and repair procedures and training
Assembly and disassembly instructions for customers
Using Lattice3D Reporter, it is quick and simple to generate a 3D PDF - no programming or scripting is required.
Two Types of Sample 3D PDFs
Try it yourself - right now. Because you will most likely already have the free Adobe Reader, all you need is the data file.
STEP 1: If you don't have Adobe Reader, you will need to download it.
STEP 2: Download and save one or both of the sample PDF files.
It is very important to SAVE the file, not just open it.
STEP 3: Open the Adobe Reader, then open the desired 3D PDF.
STEP 4: Click to ACTIVATE.
3D PDF with Work Instructions and Parts List
Use this type of PDF when documenting a step-by-step process.
Note: The numbers below, e.g. (1), refer to the illustration that follows.
Download the 3D PDF with work instructions and parts list.
In the 3D window (1), click "Click to activate" -- the 3D image should now be live.
Now you will be able to click on part geometry (and rotate/zoom) in the 3D window (1) and see the part highlighted in the part list (2). Likewise, click a part in the part list (2) and see it highlighted in the 3D window (1).
To review work instructions (3), start by clicking on DEFAULT, then click on each following step. For each step, you will see the part in the part list highlighted along with the part geometry.
Continue through the work instructions by scrolling with your mouse wheel, using the down arrow or advancing through the pages of the PDF using the Adobe menu bar.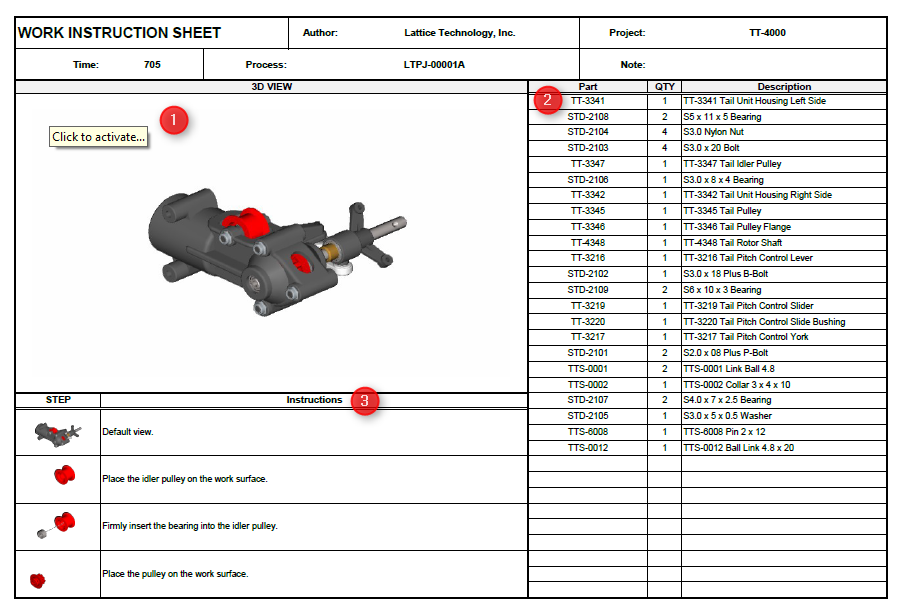 3D PDF with Part List and Snapshots
This type model is particularly useful for showing specific views of an assembly.
Download 3D PDF with eBOM and snapshots.
Follow the same instructions as above.