Case Study:
HEKUMA - Delivering Spare Parts Catalogs Using XVL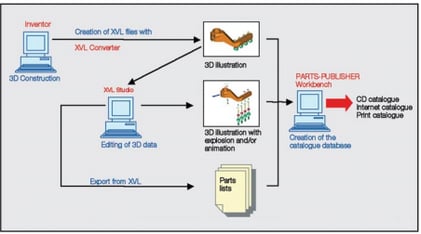 Hekuma was one of the first companies in Germany to produce machine-specific spare parts catalogs with integrated 3D illustrations for its service technicians and customers. The catalogs are generated directly from the company's own CAD system, Inventor, and transferred to CD. A web-based solution is also in the pipeline.
Having spent several months evaluating various software solutions for electronic spare parts catalogs with 3D integration, Hekuma opted for PARTS-PUBLISHER from Quanos. The main factors contributing to this adoption were the optimized workflow in the generation of catalogs and the impressive 3D functionality of the catalog viewer. PARTS-PUBLISHER is a standard software package that can be used to automatically create spare parts catalogs for print, CD, or Internet publishing in a single-source process. For the graphical representation of modules, 2D data can be shown as SVG, CGM, or TIFF files. To display 3D data, the catalog software includes XVL Player from Lattice Technology.
Get the case study.