Case Study:
Brother Industries Reduces Rework by Using XVL
Integrating XVL into the "Brother Value Chain Management" Initiative provides benefits to departments downstream from design.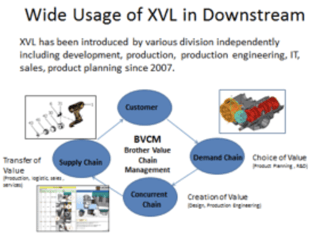 Brother Industries is a good example of a Japanese manufacturer that has adopted XVL. By applying XVL downstream from the design department and throughout the organization they have achieved many benefits.
In order to optimize processes and create new value, the Brother Group has developed a management system called the Brother Value Chain Management (BVCM) that connects all three value chains:
The Demand Chain (Product Planning and R&D)

The Concurrent Chain (Design and Product Engineering)

The Supply Chain (Logistics, Sales and Service)
As part of BVCM, Brother has installed XVL corporate-wide and has been sharing 3D models among all departments for over 10 years.
Get the case study.