Case Study:
Athlete FA - Using 3D Data In Semiconductor Manufacturing - Process Innovation Begins with XVL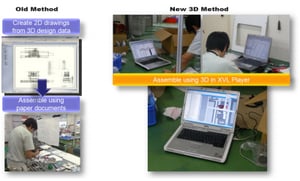 Using XVL, Athlete FA found that an original CAD file could be reduced to less than 1% of its original size. The resulting XVL model file was found to be lightweight enough for company-wide use.
In addition, composite parts could be accurately viewed with attributes and part numbers to allow correct device configuration.
Prior to the adoption of XVL, 2D drawings had been created directly from the 3D CAD system but the resulting drawings were hard to read. To resolve this, XVL was implemented to deliver assembly instructions and documents using digital 3D data, which is viewed on PCs on the shop floor.
Get the case study.